White Phosphorus…what happened to the thousands of Palestinians in Gaza sprayed with the illegal chemical by Israel a few years ago?  
Below: Gaza, 2009 – the direct affects of White Phosphorus used by Israel on Palestinians during the 2008/2009 slaughter of 1400 people.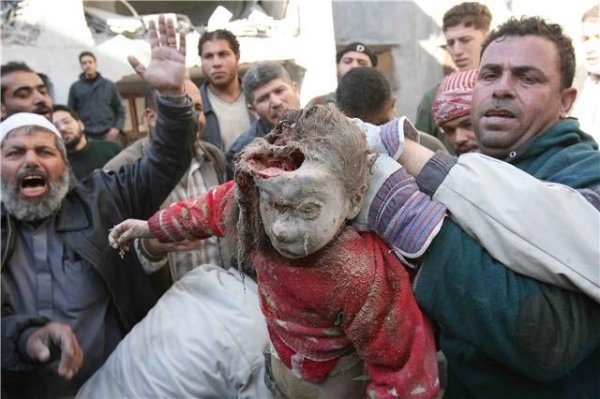 Below: Israel spraying densely populated residential areas in Gaza with White Phosphorus in 2008/2009.
White phosphorus is a toxic substance produced from phosphate-containing rocks. White phosphorus is used industrially to manufacture chemicals used in fertilizers, food additives, and cleaning compounds. It has been used in the past as a pesticide and in fireworks. It causes skin to melt away from the bone and can break down a victim's jawbone, but white phosphorus – known in Vietnam as Willie Pete – is still used by sections of the world's military.
In 2008/2009 Israel unleashed mass amounts of White Phosphorus onto Palestinians in highly populated residential areas of Gaza (as reported by Human Rights Watch in a 71 page report – see here - http://www.hrw.org/node/81760)
Although I spend much time thinking about the kids still suffering not only from physical wounds of 2008/2009 and 2010 as well as the present ongoing slaughter but also from the mental trauma as well as the effects of the many illegal chemical weapons Israel used on the Palestinians in Gaza.
When will it all emerge I thought….
Look no further. While visiting kids and adults alike in hospitals in the West Bank and Jerusalem, I met a couple of kids that told me they were not here from the current massacre but because they were suffering fro cancer in their bones and blood caused by exposure of White Phosphorus in 2008/2009.
After a recent visit to Al Najaah Hospital in Nablus, I walked a few minutes up the mountain to a cafe to sit with some friends. I noticed a little girl that I had not seen before who looked like she was staying at the hospital from the surgical gear she had on. I asked the lady with her (who turned out to be her Grandmother and an amazing woman) what was wrong with her. She told me that the little 5 yr old girl was suffering from cancer because her mother had been exposed to White Phosphorus months prior to her birth.
Below: Me and the little girl from Gaza
I met another young man Mohammed, 17 years old, who I have yet been able to get a picture of that is suffering from cancer in his legs from playing with the chemical when it was sprayed onto their home in 2009.
I want to investigate this issue a little more and give a more detailed report but I want people to be aware of what is happening. This isn't a two week, one month thing. This is an ongoing ethnic cleansing.
If you want to help families and/or donate to kids and adults being brought into the West Bank , please donate via paypal to questions@existenceisresistance.org
By Nancy Mansour